What Makes Google's Hyderabad Office More Than A Workplace
All of us have read the adorable job application sent by a seven-year-old girl to Google's CEO Sundar Pichai. Even a seven-year-old saw working with Google as a golden opportunity. So, what makes Google the "it" company to work at? Is there more to it than the job profile, or the work ethics? Yes, there is. Apart from the opportunity of working with the world's leading internet company, every job applicant is excited to work at their very cool offices.
Though there are more than 70 offices worldwide, there will be no two offices that have any kind of similarity.
Talking about Google's Indian operations, there are four offices one each in Bengaluru, Hyderabad, Gurgaon and Mumbai and of these, one of the most talked-about is their office in the Telangana capital.
MakaaniQ shares some interesting insights about this plush office:
The Hyderabad office, the largest campus in India, acts as the technology development centre operating from a leased premise with a total head count of 6,500 employees. The company, in 2015, had also acquired a 7.2 acre-plot of land in the IT corridor of Gachibowli. This office will have software development operations and will take the company headcount to 13,000 in Hyderabad.
(Glassdoor)
Enter this office like you would do in a playground, use the slide.
Hungry? You don't have to carry your meal. Just go to the cafeteria that offers a gamut of sumptuous food and refreshing drinks. This includes live counters for pasta and omelettes, and micro-kitchens loaded with coffee, Maggi, Nutella and an assortment of tea. The cafeteria is lively and bright.
(Google)
For those who want to recharge their batteries while working can have a game of cricket at an indoor pitch, move to the gaming lounge where one could play table tennis, pool and foosball or how about trying your hands on the Xbox. Or, relax your mind at the massage centres.
Promoting a healthy lifestyle at work, there are bi-weekly Yoga and Zumba sessions. Also, there is a state-of-the-art gym where treadmills are studded with laptops. These are free of cost.
(Google)
Inspired by the Hyderabadi architecture of domes, there are areas designed for have your one-on-one quick meetings or some fun discussion. These areas are private yet open and covered in red.
It also has multiple lounge areas as well as a library.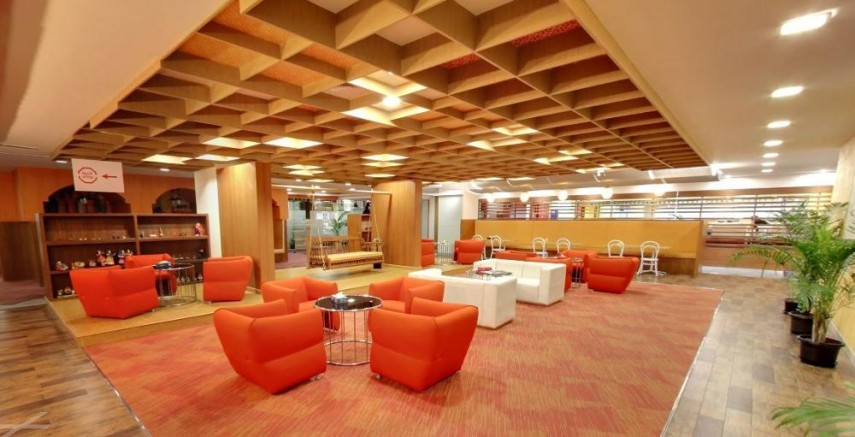 (Glassdoor)
Last Updated:
Wed Mar 01 2017