These Foreign Cities Turned Wastelands Into Urban Landscapes
Across cities, it has been witnessed that only certain areas are developed into urban landscapes, leaving a large chunk of abandoned land. This vast land, which can actually add to the beauty of the city when utilised well, generally goes waste and at times even becomes a dumping ground.
India, according to a report released three years ago, had 467 lakh hectares of wasteland. Now, imagine a city that has a mountain of trash which can always be recycled and get rid of in innovative ways.
MakaaniQ lists some projects that show us how no space is a waste and how it can turn out to be the most striking feature of an urban landscape:
Freshkills Park, New York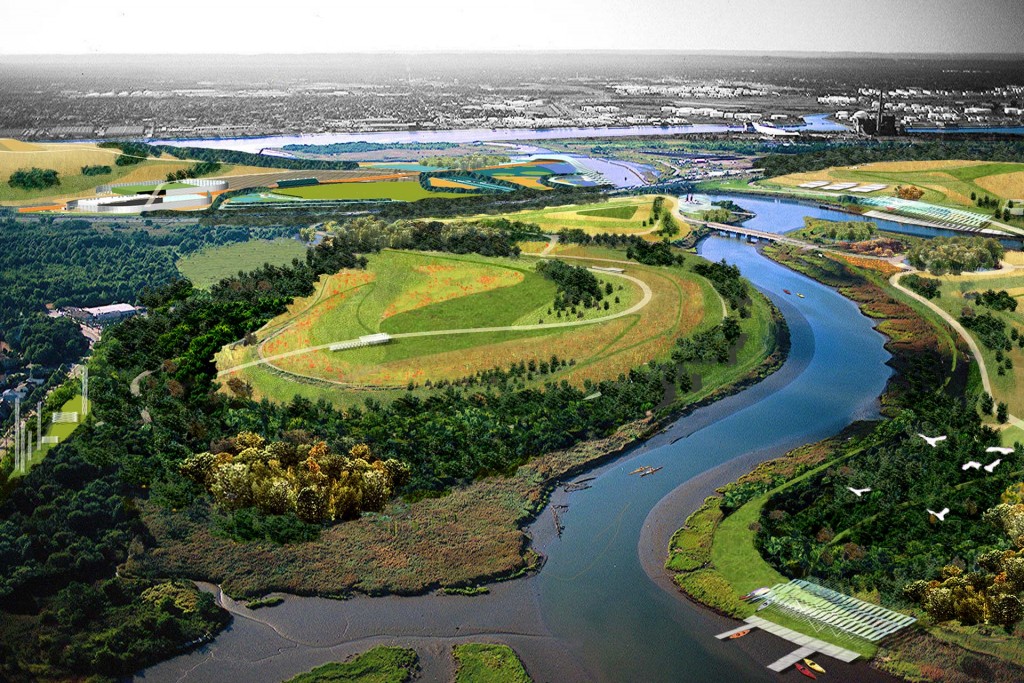 (fieldoperations.net)
Public parks are a prominent feature of the New York city and Freshkills Park will be an iconic one in the list. This park is being developed on a landfill reclamation. Freshkills Landfill was opened in 1947 along the western coast of Staten Island to accommodate the city's waste temporarily during the exponential rise in consumption, post-World War II. This place later turned into a permanent and principal landfill of the city. The landfill that turned to be the world's largest by 2001, turned into a 2,200-acres land of hills as high as 200-feet with nearly 30,000 tons of trash dumped daily by the 1990s, which once was a 2,200-acre sea level wetland. It was shut down in 2001 and now as a part of the 30-year master plan by the Department of City Planning is being converted into a public park. The construction of this park began in 2008 and by the time it is open to public by 2035-37, it will be New York's second largest public park. It will be constructed with five major sections that will promote cultural, athletic, and educational programs, namely The Confluence, The Point, North Park, South Park, East Park and West Park.
Magic Garden, Philadelphia
(Flickr/Kevin Burkett)
The making of this park is a story worth reading. This talks about how an empty lot in the city's South Street area was turned into a piece of art and inspiration by mosaic artist Isaiah Zagar. This is known to be his largest works where he converted a vacant land into a large mosaiced space spread in an area of 3,000 sq ft. He started working on this project in 1994 and at present, it is a non-profit organisation that holds art exhibitions with special preference for ceramic and mosaic art while others are welcome. The garden also has educational programming, performances, tours, and mosaic workshops, all open to the public. Zagar still keeps on adding his mosaic and ceramic works to the space. Once completed in 2002, this, in fact pumped property prices in the area.
Also read: 5 Modern-Day Projects That Promote Nature  
Bastille railway station, Paris
(Wikimedia)
This station was opened to public in 1859 and served the Vincennes railway line in Paris, from the Bastille station to Verneuil-l'Etang. It was closed in 1969 and was left abandoned for decades. Then came the plans to bring down the place but then as fate had it, the station underwent an upgradation. In 1993, urban designers Philippe Mathieu and Jacques Vergely began the work of transformation. The first step was to add a walking garden on top of the station and name it Promenade Plantée. This was the only elevated park on a railway station until 2010 when Manhattan's High Line station was constructed in 2010. Then in the next phase, from 1994 to 1997, shopfronts were added by architect Patrick Berger. These shop fronts were created in the arches of the former station and called Viaduc des Arts. Now, here you could walk in the park, have a cup of coffee or attend artistic workshops.
Olympic Sculpture Park, Seattle
(Dreamstime)
After Union Oil Company of California moved out of  Seattle shoreline in 1975, it left behind a contaminated brownfield. In 2007, this brownfield was reclaimed by Seattle Art Museum and converted this wasteland into what we today know as Olympic Sculpture Park. Now this piece of land is listed among things to do in Seattle. This park has some unusual piece of sculptures and it hosts an annual evening light show, too.
Also read: 5 Planned Towns Across The Globe That Can Inspire India
The Green Alley at Boston Architectural College, Boston
(ecolandscaping.org)
This is an example of how a wasteland was turned into a sustainable neighbourhood. A landfill until 1890, Boston's Back Bay area today features two rows of brownstoned, tree-lined streets. A well-planned neighbourhood, it has public alleys running behind the buildings that provide service areas for deliveries, trash storage, and parking.
A part of this neighbourhood is The Green Alley. It is located on the Boston Architectural Campus (BAC) and was redesigned to be sustainable. It has provision to recharge the groundwater by filtering stormwater from alley surfaces and two BAC rooftops through permeable asphalt and paver systems and substrate. Additionally, it has geothermal wells below the ground that serve as the core buildings. It helps the campus to achieve its net-zero energy goal. Moreover, there is a vertical steel grid covered with greenery that helps reduce the heat effect in this narrow area.
Last Updated:
Fri Jul 06 2018