Take Inspiration From These Kitchen Cabinet Designs
Going modular with your kitchen could be a good idea, considering the ease it provides. New-age technology, optimum use of space and aesthetically pleasing, modular kitchens can be designed based on the kind of space available with you. So, while you plan to construct a modular kitchen make sure you pick the right design of cabinet to ensure all the three elements of the kitchen are met.
Here we list seven types of cabinet designs that will go well with the interiors of your entire home:
The classic white
For those who have spacious and open kitchen, these cabinet designs would not just keep the area organised but will also add to the aesthetics of the interior of your house. Well-crafted in a classic cabinet pattern, the floor and the top cabinets without headroom create a complete look of the kitchen. The marble countertop, wooden laminate flooring and centre contemporary pendant add to the aesthetics of this classic kitchen.
All about seamless
For those who have decked up their home in a contemporary set up, these seamless kitchen cabinets are a must have. This look offers no handles and pre-installed appliances that make the kitchen look, clutter-free, spacious and minimal. 
Also read: Don't Make These 5 Mistakes When Designing A Modular Kitchen
Gloss and glass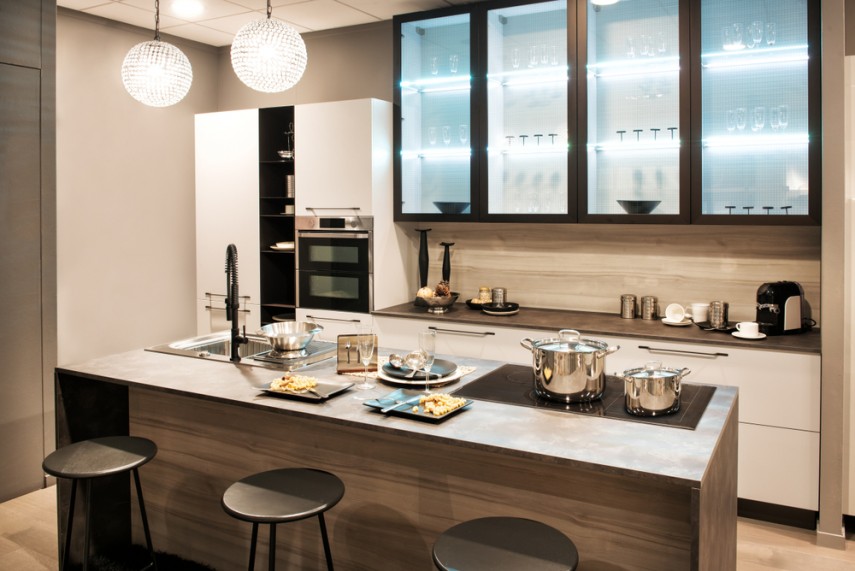 Low on space but want your kitchen to look stylish still? These hanging cabinets with glass doors could be a perfect way to add style to your kitchen. An eat-in kitchen plan is well-designed with large cabinets at the bottom to house all the utensils, while the glass cabinets are used to flaunt the fancy cutlery. 
A classic twist
Take a cue from this kitchen that is a good mix of old-school wooden cabinets and modular appliances. The cabinets here are done in the classic wood with typical handles both on the top and the bottom. However, what adds to the modern quotient of this kitchen is the placement of modular appliances, a chimney and built-in gas top. 
Add the quirk
Do you love to decorate your kitchen with plants and other decorative? This kitchen cabinet style is apt for you. Rather than having enclosed cabinets on the top, install open shelves. These shelves could be used to place decorative and also, some handy appliances or utensils. However, this kitchen doesn't compromise on storage space as it also has wooden-door cabinets at the bottom and glass-door alternative on the top. 
Also read: Acrylic Vs Laminate: Here's What You Should Use For Kitchen Cabinets
(Photos courtesy: Shutterstock)
Last Updated:
Wed Jan 23 2019