Home Is Where Your Art Is
A dream home is a shared vision of each member of a family. You can buy a house but it's its occupants who make it a home. A house becomes a home when the furniture or the décor exude comfort and the personal touch of each member of the household.
MakaanIQ brings you some ideas on how to convert your house into a homestead. 
Your favourite hue
(Dreamstime)
Have a single wall in every room or at least one room painted in a shade of your favourite colour. It could be either glossy or matt finish and decorate it with family pictures or other crazy moments. You can also embellish it with your creative handicraft to give a personal touch to the décor of the house.
For the bookworm
A corner or a mini and library for the bookworm in you, to take you to the place where no one can disturb you. It would be a classy addition to your home.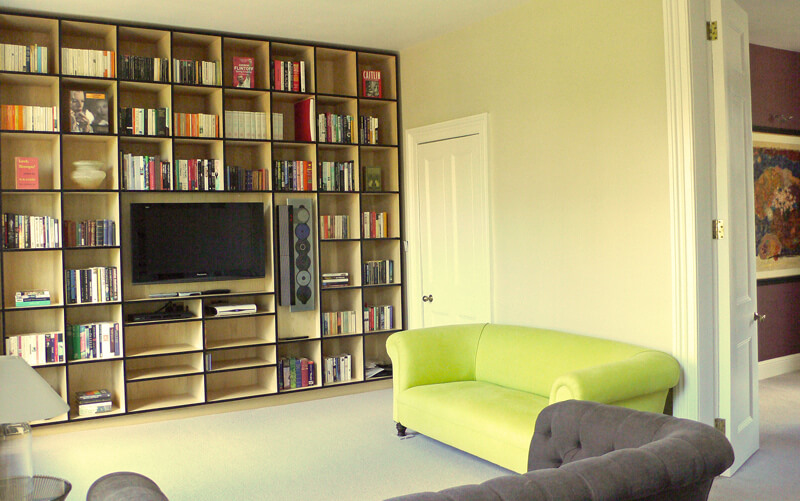 (Flickr)
Daybed is a plus
A daybed or Diwan along with a bolster pillow and cushions with lively colours or in contrast with the wall would radiate oomph.
(Dreamstime)
Dine in style
A dining table to seat six people along with the wooden cabinet for storing your favorite cutleries and crockery. The wooden furniture with original wood finishing gives the dining space a rustic and a warm look.  
(Dreamstime)
The leisure corner
Everyone likes to spend their leisure time lounging on their favourite couch relaxing with a piping hot cuppa and their favourite read. A comfortable, fluffy couch with a sofa and cum and bed makes one forget the tiresome day. Decorate the living room a chest of drawers to store your knick and knacks, with decorative accessories like mementos collected from the family outings.
(Dreamstime)
Master of the home
The master bedroom is the room where you spend at least eight hours of your time and also more when you want to curl up away from the world. Accompany the bed with a night stand on which you can place a table lamp and your favourite book or the alarm clock to wake you up early morning for some yoga and a breath of fresh air.
(Dreamstime)
The naughty affair
The children's room can be done in light cheerful shades of blue, green or pink. It can be decorated with stuffed toys or pictures of their favourite cartoon characters. The walls and the ceiling can be painted with glow in the dark wall art which could be starry night sky or planets of the universe.
(Dreamstime)
It's time to relax
A recliner or an ottoman at foot of the bed to just sit down when you are not in the mood to go to the living room or not ready to crash for the day. But still you don't want to leave your bedroom.
(Dreamstime)
A lounge is a must
Rugs not only prevent the cold to reach you, they also lend a comfortable feel to a room. You can just lounge on the floor sipping your cuppa.
(Dreamstime)
Fun to cook
(Pixabay)
The kitchen where you prepare the meals is also a very special place. It is the place which makes you the master chef. The fridge magnets with quirky witty quotes to stick messages on and random photos give it a personal and unique touch. If the space allows, you can also have your own kitchen garden where you could grow organic herbs and veggies.
The sweet nothings
(Pixabay)
The sweet jingling of the wind chimes is music to the ears, a good break from the noisy traffic outside. Hang a wind chime in your balcony and have cane rocking chair or a hanging chair for those lazy evenings.
Last Updated:
Fri Jul 15 2016