5 Decor Trends That Contemporary Indians Love
Homeowners, all over the world, are obsessed with latest home decor trends emerging in the market and are willing to go the extra mile to give their dwellings an impressive and unique touch. But there are some trends which are here to stay for a long while and urban Indians seem to be in love with them.
MakaaniQ brings you five popular home decor trends preferred by contemporary Indian homeowners:
Pleasurable greens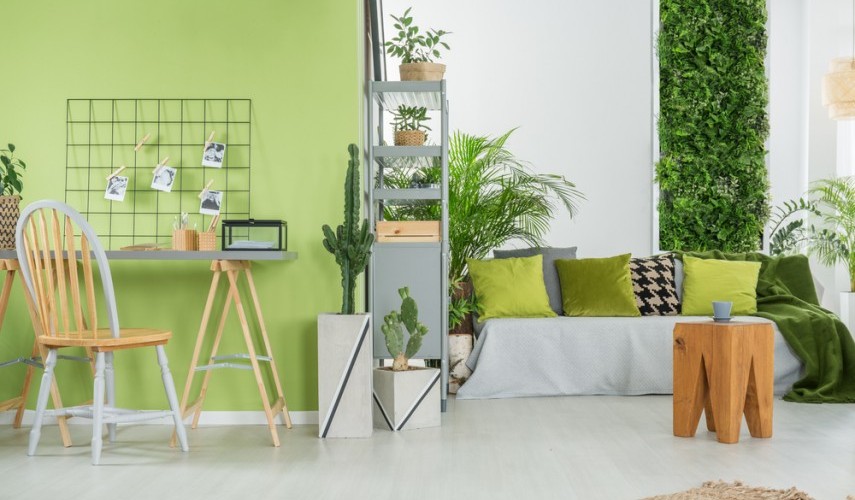 Indians are looking beyond whites and greys and exploring vibrant colour options, especially green. This is the most loved colour and blends well with other hues. As an accent on walls, room-filling rugs or indoor plants, homeowners are comfortable with adding generous doses of green hues in their living spaces. With various shades available - from lime green to emerald, the options are just countless.
Metallic tinge
Metallic elements are desired in most home improvement projects, for imparting a shiny touch and old-world charm to any space. Stained glass lampshades, vases, table stands, decor accessories or cutlery for the kitchen, are among a wide array of home decor styles with a metallic twist. Even a mix of metals or combination of metal and wood or marble, has made their way to Indian homes.
Quirky geometric patterns
Patterns add a dramatic feel to the house, with any object becoming the focal point when given a patterned look. Geometric zigzags can break up the symmetry of a room and visually transform it to have a spacious look. From simple vertical stripes, to triangles and more bold shapes, people like to experiment with patterns to achieve a mid-century or a contemporary look.
Custom headboards
Beds with upholstered headboards are in trend and also offer much-needed cosiness. Upholstered headboards reflect opulence and can be customised according to one's preference, by mixing and matching with other features of the room.  
Preference for comfort zones
Be it a personal library or a family-room, Indians are now open to accepting their need for personalised spaces in their homes. This also entails smart space planning, using convertible furniture and storage options. The love for a 'home with a view' has drawn the focus towards outdoor spaces as well, with many indulging extravagantly in revamping their patios or gardens.
Last Updated:
Fri Jan 20 2023