Before The Guests Arrive: How To Deck Up Your Home For A Party
If you are planning to host a family dinner or throw a weekend bash for your friends, you would surely want it to be perfect. While you make your to-do list, make a note of invitees or plan the menu, do keep in mind that your house will also require your utmost attention.
MakaanIQ tells you how to prepare your home before the guests arrive:
Grab attention at the entry
(Dreamstime)
When your guests arrive, give them a party feel at the entry door itself. Give your entry door a special touch and prepare it for the occasion. You can stick a welcome note or flank a pair of topiaries on the door to make that perfect first impression, preparing them for other amazing things that will follow.
De-clutter your home
(Dreamstime)
You would never want your home to look messy when guests are coming over. Declutter your home and make sure it looks immaculate. Make adequate use of your storage to keep all the things that are not needed.
Dress your dining table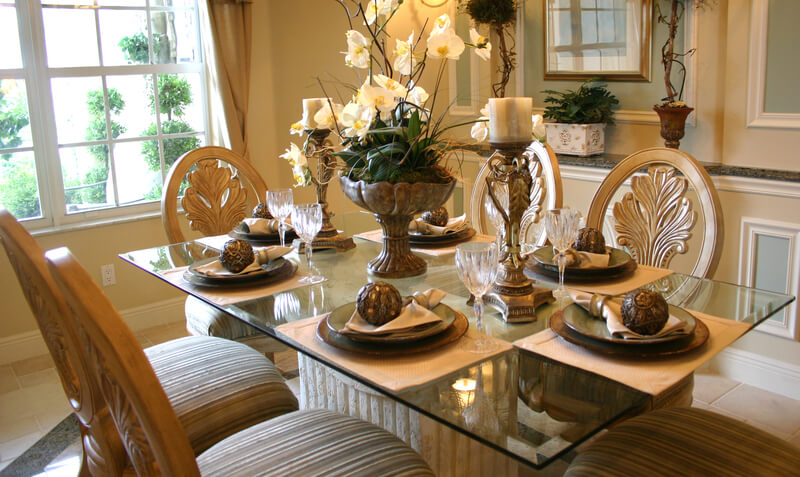 (Dreamstime)
It is important to dress your dining table before your guests arrive. This will not only help save the last-minute rush but also complement the décor. Cover your table with a beautiful cloth and place an attractive centrepiece on it. It is obviously the right time to flaunt your favourite crockery, too. 
Deck up your other tables
(Dreamstime)
After you usher your guests into the living room, you would like to make another impression. Make use of your coffee and corner tables for the purpose. Keep a vase with fresh flowers, candles, or a bowl of potpourri, to add beauty and aroma to the room. You can also keep some cutlery or snacks to serve the guests.
Have ample sitting
(Dreamstime)
When there are guests at your place, you want them to feel at home and seated comfortably. Make sure you have ample seating arrangement according to the number of guests. If you don't have a very large sofa or many chairs, you can create a sitting area by placing a mattress and arranging some cushions and pillows to create a relaxed sitting area. 
Freshen up your bathrooms
(Dreamstime)
Dress up your bathrooms well in advance. Make sure all the bathrooms and toilets in your house are clean and smell good. Hang clean towels and make sure to refill the soap jars. To keep the washroom fresh and free from odour, spray some room freshener. You can also place an oil diffuser or fresh flowers in a vase on the countertop.  
Decorate for comfort
(Dreamstime)
Considering the comfort of both the host and the guests, decorate your home accordingly. You can place scented candles on side or centre tables. Keep a separate area to place pre-dinner snacks and, in case it is a cocktail party, make a drink station in one of the corners of the living room.
Adjust lighting
(Dreamstime)
The lighting in the home depends on the kind of party you are organising. Create the party mood by adjusting the lights — it should not be too dark or too bright. Make the area so well-lit that everyone is able to move comfortably. Also, check if all the bulbs or LEDs at home are working well.
Set it right
(Dreamstime)
Create an ambience according to the kind of party or get-together you are organising. Set the temperature of the room, make sure there is enough cooling in the room. Check the aroma of the house, do not spray too much room freshener or it may get too harsh on those allergic to strong smells. If it's a dance party, adjust the volume level of your music system and be ready with a playlist of songs in advance. 
Take the safety measures
(Dreamstime)
Safety comes first! As a host, it will be your responsibility to make sure that the home is safe for your guests. If the guests include kids, keep hot drinks, candles, breakables and wires out of their reach. If possible, arrange a separate and safe seating or play area that is always visible to the parents from a distance.
Last Updated:
Tue Nov 06 2018