5 Ways To Create Vertical Storage In Your Home
Space crunch is a universal issue in most households. Now, when exploring horizontal options won't do it for you, start looking vertically.
Why use vertical storage?
Most of the walls are not completely utilised and only certain reachable height is used to decorate or create storage. 
Here, we list five ways to go about creating vertical storage. 
1. Create storage on walls with windows and doors
Walls that generally have a window or a door are not used to create storage and a lot of space gets wasted. However, there is a way to create storage on a wall of your room that has a window. The complete wall surrounding the window here has been turned into a huge storage space with different types and sizes of cupboards.
2. Create storage in small corners
Some areas in our homes have corners that are used to place floor furniture or decorative items. The vertical space of such corners are largely ignored though it can be utilised to create storage for small things that are left outside. For instance, this kitchen has a small corner designed beautifully with a table and chair while the vertical length of the wall has been covered with a quirky cabinet with multiple shelves - open and closed. While some of the shelves are used for decorative needs, the remaining is used to store small things such as coffee mugs, napkins, salt and pepper dispenser, cutlery, etc.
3. Create multiple shelves
We tend to leave the area around our study table empty and not enclosed, with too many cupboards or storage. However, there is a way in which you could create storage without the area feeling cramped up. In the image above, you can see an industrial way of setting up a bookshelf around your study table. A complete console including the shelf and study table is created.
4. Create partition walls
Using partition walls for storage is rare. These are walls that are largely ignored. In case you have such partition walls at home, take a cue from this image. The partition wall here has been used to create storage within it, to place small things.
5. Create storage under the stairs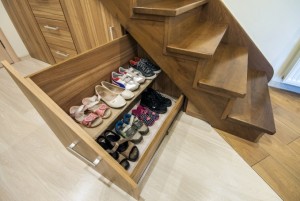 Not just walls, you could look for vertical storage under the stairs. The space underneath your stairs can be used to create storage. This storage space can be used to place your shoes, umbrellas or things that are used rarely. This way, you would also be able to conceal the empty space under the stairs.
Last Updated:
Tue Sep 24 2019