Getting Ready For Diwali: Interesting Ways To Light Up Your Home
Diwali, the festival of lights, is around the corner. After you have completed a cleaning drive at home and bought all the decorative for your home, it's time to light it up. While string or strip lights are one way to do that, MakaaniQ lists some interesting ways in which you go light it differently this week:
Bottled-up
(roomble.com)
You must have at home some old glass bottles of aerated drinks. It's time to recycle them. Keep these bottles in a line and now bring the long string lights (single-or multi-coloured). Start putting a section of these string lights in to the bottles one by one until you see a bunch inside each bottle. Now plug in this string light and see the magic unfold. You could also bring in string lights with multiple lighting modes which you could put on auto or change from time to time. To add to the beauty, you could use bottles with different coloured glass, too.
This line of bottles can be placed on the porch, on the mantle, or a shelf in your living area.
Writing on the walls
(iappfind.com)
We generally tend to decorate our walls with hangings or paintings. What about lighting them up, too? Well, with string or strip lights, you could. While you could run the string lights in different shapes and lengths and tape them to the wall, the strip lights could be more defined if you planning to write a word, say 'Happy Diwali'. These lights can make your room glow, just turn off the rest of the lights.
Hang them wherever you can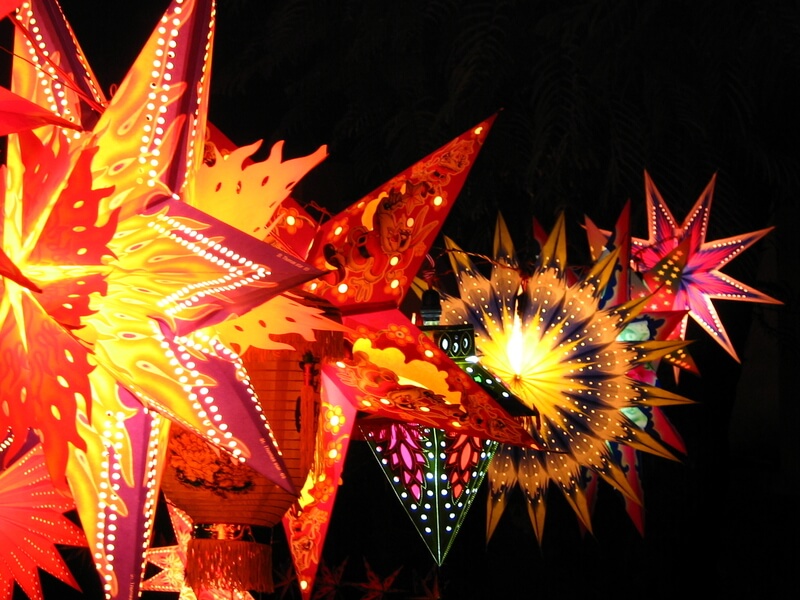 (Dreamstime)
Kandeel as we know them, are the traditional hangings that can be used all around your home and to add to the beauty, light a yellow bulb inside it. These hangings, made of paper, cloth and plastic, are available in wide range of colours and shapes. You can take your pick as the market is full of them. In fact, these are not just available in hanging form but also can be placed on a flat surface like a lamp.
Go to the garden
(Dreamstime)
While we deck up the façade of our homes we tend to miss out on the garden area. To make your entrance look even more welcoming, light up your garden. String lights moving between the plants or a tree can completely change the way your garden looks. Just like a jigsaw puzzle, these lights when put into different lighting modes can attract attention of the guests, and even passerbys. Moreover, lighting up the garden could also give you an opportunity to host a dinner in the cool November breeze.
Do it yourself
(Pixabay)
DIY candles, paper lanterns and lampshades make for one of the simplest and personalised decorations using lights while giving your house an oriental feel. You do not require any specialised crafting skills. All you need is some spare time and easily-available household items such as ice cream pop sticks, egg cartons, cardboard, old newspapers, glitter and other decoration materials. Some quirky paper lantern examples are glitter disco ball lantern, cubical lightbox, paper doily lanterns, scrap paper lamps, lampshades made of newspaper tubes or disposable paper cups, etc. The internet is flooded with plenty of easy tricks for making paper torans, lanterns and personalized candles. If you are fond of Origami, try using the paper folding techniques to create beautiful Diwali lanterns with coloured paper sheets. Hang them near the house entrance.
Without electricity
(Dreamstime)
Here is a traditional idea of lighting up your house. Light up your indoors and outdoors using diyas and candles. You could use various arrangements of placing them. For instance, place them on a platter, use floating candles in a bowl of water with flowers, place small candles in hanging candle holders or by just placing them in a line. You could use them in the living area, on the porch, at the entrance and even as a part of your rangoli. This traditional form adds lighting to your home that no lights could do.
Paper bag luminaries
(Wikimedia)
It's time to put those brown shopping bags to good use. Punch the paper bag using a decorative hole punch or simply a needle or a pin. Place battery-operated candles in each bag. Display them on corner tables or on the floor to set a warm ambience across any room. For a dramatic effect, add more such bags and explore with the designs made from the holes.
Brass Lamps
(Wikimedia)
You could bring an ethnic touch to your home with the traditional brass lamps with fresh flowers and Rangoli. Traditional brass lamps are not just ideal gifting items but an elegant lighting option for the occasion. Usually, they belong to the Puja room but can also be used to adorn the rangoli design in the foyer or the living room. Brass wall hanging diyas or metal diya holders are quite popular and are available in various designs like peacock shaped brass lamps, dancing Ganesha and flower shaped brass lamps.
Last Updated:
Thu Nov 12 2020