How To Apply Online For Subsidy Under PMAY
The Pradhan Mantri Awas Yojna (PMAY) is one of the most ambitious housing schemes launched in India, covering beneficiaries from different financial backgrounds. There are multiple components of the scheme under which an eligible applicant can apply for subsidy. These include credit-linked subsidy, subsidy for house construction, in-situ rehabilitation and affordable housing in partnership. While the eligibility under the PMAY can be checked here, it should be noted that beneficiaries with annual income of more than Rs 6 lakh or those under the middle-income group (MIG) category, cannot apply online but have to send their application through lender bank or housing finance companies.
Do note that in a bid to encourage untapped beneficiaries, the government is also planning to tap into the income tax data of nationals to ascertain their eligibility. This would help generate a certificate from the I-T department which would help a prospective PMAY beneficiary to avoid queues at bank branches when they go for a subsidised loan. A large pool of intending homebuyers have been unable to apply with only 3.4 applicants so far even though the PMAY has extended its benefits to those with an annual income of up to Rs 18 lakh. 
Here's how you can apply for the PMAY-Urban through online portal:
Log on to www(dot)pmaymis(dot)gov(dot)in
Click on citizen assessment option. A drop-down menu will indicate multiple options. If you fall under the economically-weaker section (EWS) category (annual income below Rs 3 lakh), choose slum dwellers. If your income is more than Rs 3 lakh but less than Rs 6 lakh, you can choose the second option- Benefit under other three components.
Aadhaar card is mandatory for applying under the scheme. Once you chose any of the above options, you will be directed to a new screen where you have to verify your Aadhaar number.
If your Aadhaar number gets verified, you will be redirected the to application form page where you have to feed important details about yourself which includes your name, address, contact details, family member details etc. Under EWS category, applicants can only apply for in-situ rehabilitation scheme while under LIG category, you can choose from the drop down menu.
Mention your ownership status of the current residence along with income details, caste and religion.
Submit the form. An assessment id will be generated which should be secured for future references. This assessment id can be used for tracking application status online or you can contact your nearest municipal corporation.
Home loan subsidy criteria for EWS, LIG and MIG
Applicants can apply for home loan subsidy under the PMAY only through an approved list of banks and housing finance companies.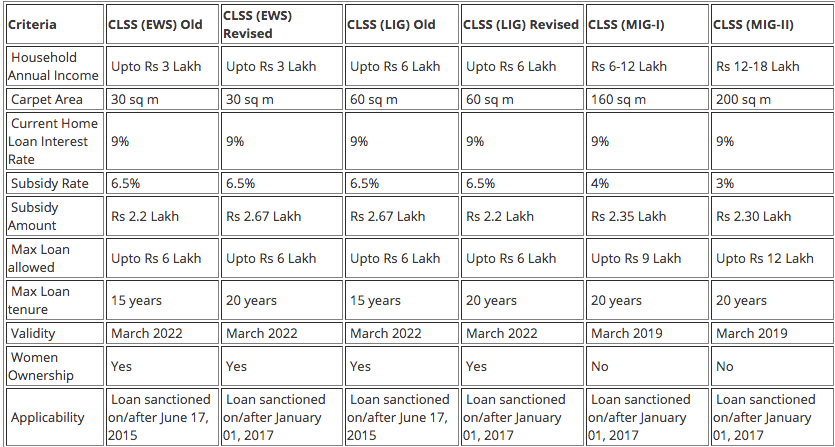 Last Updated:
Wed Jan 30 2019